At
Fund by Cell

, we believe in changing the face of your business, charity, or non-profit via crowdfunding technology. Empower your members, donors and supporters to crowdfund on you behalf. We track all donations raised by your donor network, allowing you to reach out and reward them, if you chose to, with full control over your brand.
Our parent company, Give by Cell, is trusted by more than 3000 organizations and has been in the fundraising industry for 7 years. Starting your fundraising campaign is
fast, easy, and secure

.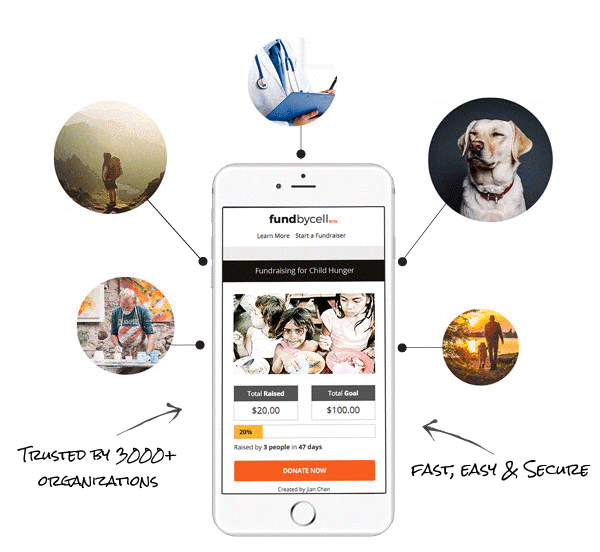 More Fundraising Solutions For Your Campaign

How Our Crowdfunding Can Help Your Non-Profit or Business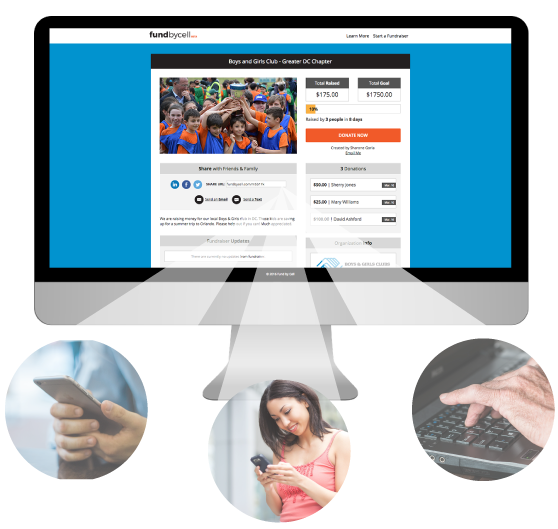 Save Time, Money & Staff Resources
We can help augment your existing fundraising needs. Our always-on platform does the work for you!
Provide Your Donors Consistent Follow-Up
Our platforms afford you the ability to consistently and constantly update your donor network.
Inspire Your Network
By us creating 100s of sub-accounts, you benefit from allowing your donors' passion to shine through.
Forge Donor Relationships
Your donor network reaches out to their own network--social sharing increases fundraising exponentially!
How It Works
1
OPEN ACCOUNT
Fill out the sign-up form and confirm your WePay account, our preferred online payment system provider. Once confirmed, start your campaign!
2
PROMOTE CAMPAIGN
Post your campaign to your social media, make handouts, spread the word! Contact us to activate the ability to create sub-accounts. Let others know about your cause, immediately.
3
TRACK FUNDS
View how your campaign is performing in real-time. You can monitor the overall campaign -- rich reporting shows the performance of all sub-accounts.
4
WITHDRAW FUNDS
There are no minimums to meet in your campaign, and you have full access to your funds, at any time, in any amount raised -- including direct access to funds raised by sub-accounts.
Expand Your Network With Our Partners Program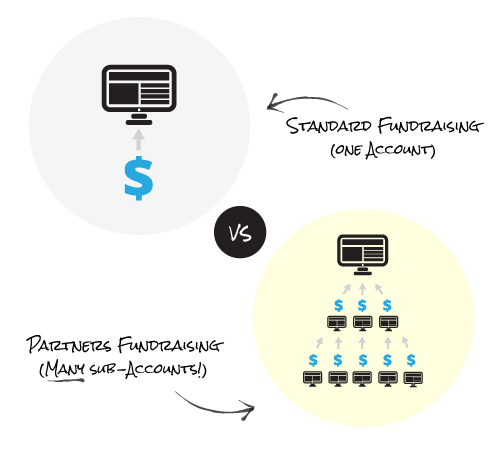 Full Control of Your Brand
By setting up the master campaign account for your organization, you control all branding elements.
Creation of Hundreds of Sub-Accounts
Get out of your own way, and let your donor network reach out to their social circles and do the work for you!
Exponentially Increases Fundraising Efforts
All sub-accounts filter up to the master account -- a great way to dramatically increase fundraising efforts.
Raised Funds Go Directly To Master Account
Sub-account creators can track their own efforts, but all funds raised go directly to the master account.